The monthly Job Openings and Labor Turnover (JOLTS) report, published by the Bureau of Labor Statistics, provides data on labor demand and turnover. The release is already two months old when it comes out, but this important indicator gives us a pulse on the job market and can provide leading macroeconomic evidence.
---
This morning's JOLTS report for July reported 8.8 million job openings, down from June and worse than forecast and its lowest since January 2021.
Job openings increased most in information and in transportation, warehousing, & utilities. Openings decreased in professional & business services, health care & social assistance, state & local government, and federal government.
Hires, total separations, and layoffs & discharges changed little in July while quits decreased to 3.5 million. Quits declined most in accommodation & food services, wholesale trade, and arts, entertainment, & recreation. Decreasing quits typically indicates less employment flexibility. Businesses with more than 5,000 employees saw quits decrease in July.
Today's drop in job openings is significant, but so was the increase in openings during the COVID-19 pandemic. It's important to note that this is still a tight labor market, and job openings remain well above pre-pandemic levels. Also interesting is the graph below from today's report that tracks the number of unemployed persons per job opening. This months' openings increase is a small uptick on this graph, but again – is still below pre-pandemic levels.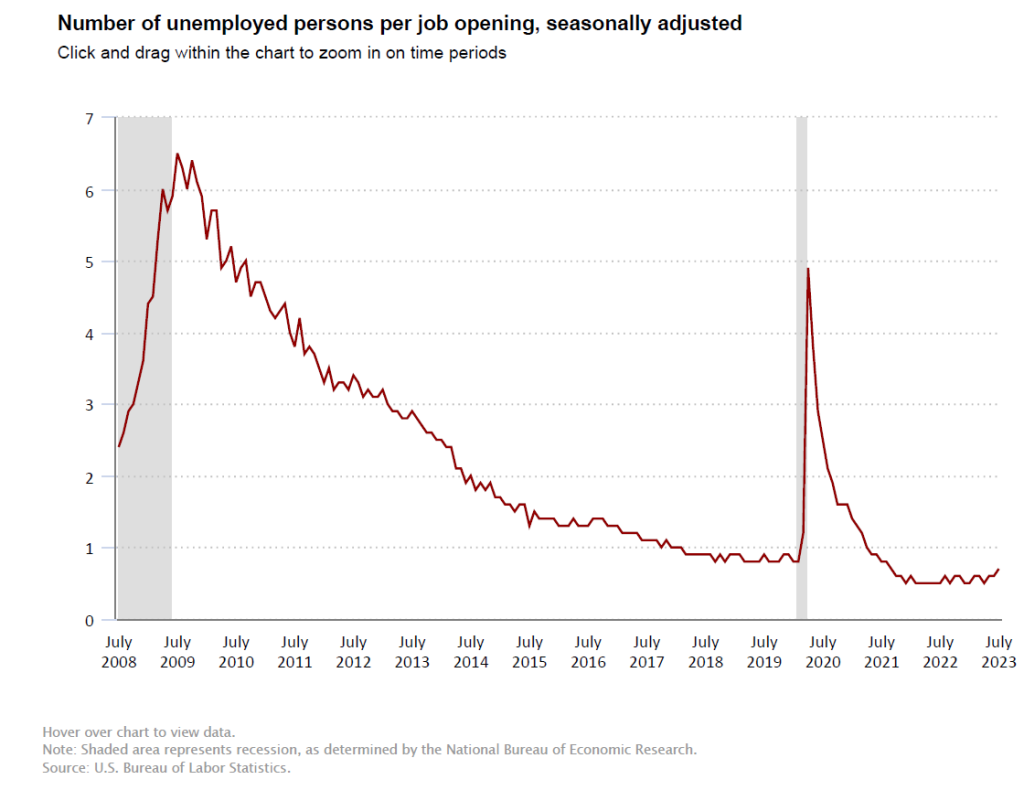 Interested in reading more? Access a select few publicly available Market Insights here, or become a subscriber to gain access to our vast library of subscriber resources.