The Bureau of Economic Analysis (BEA) releases PCE monthly – it's the most comprehensive measure of consumer spending which in turn makes up about two-thirds of GDP. The Index is made up of goods and services – and is also the Fed's preferred measure of inflation. Why? Largely because PCE is believed to reflect consumer spending habits more accurately than CPI. PCE considers both urban and rural populations and includes all expenditures purchased on behalf of the consumer including those by a third party, like health insurance purchased for employees, while CPI includes the urban population and out-of-pocket expenditures. Essentially, PCE includes a larger bucket of expenditures in its calculation. Additionally, the underlying component weightings for PCE adjust more frequently in response to changing consumer preferences. CPI weights are fixed two years while PCE weights use current time periods to reflect actual pricing.
---
The latest figure for April Headline PCE came in at 4.4% year-over-year (YoY), which was higher than March's figure of 4.2% and worse than expected. Core PCE for April was at 4.7% YoY, above the March figure of 4.6% and slightly worse than expected. The PCE releases came in below both CPI and Core CPI for April which were 4.9% and 5.5%, respectively. Month-over-month (MoM), both Headline and core PCE were up 0.4% in April.
These increases reflect rises in both goods and services – prices for food increased 6.9% in April while prices for energy decreased 6.3%. The largest contributors to the increase in goods were from Motor Vehicles and "other durable products" led by pharmaceuticals. The largest contributors to the increase in services were from financial services, other professional services, and health care. Part of this increase in spending can be attributed to a gain in personal income, which was up 0.4% MoM largely due to increases in wages.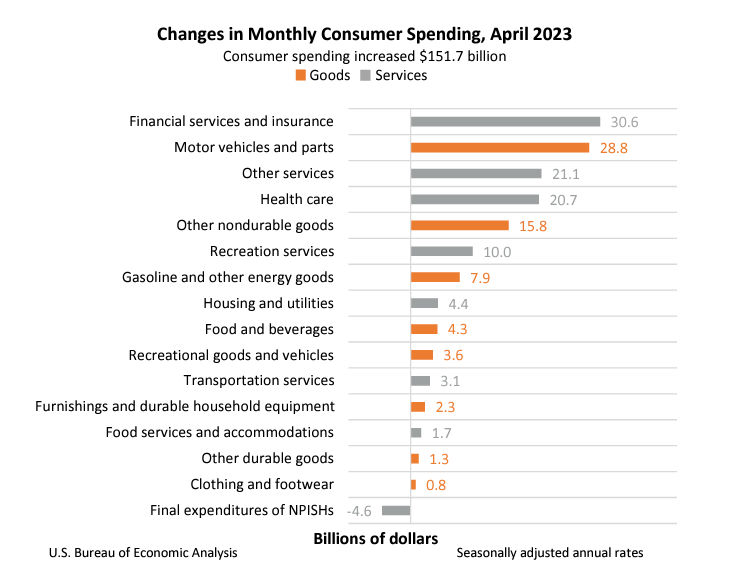 While Headline PCE has been trending down since the middle of last year, Core PCE has seen a much slower decline and has been mostly flat this year after ticking up slightly last month. The stickiness of Core PCE, the Fed's favored measure of inflation, is proving tough to tame.