Economic Trends
Stay up to date with the latest Economic Trends! This new feature tracks important indicators you should be watching. Economic Trends are available from our menu or visiting here.
This new service is FREE so you are welcome to share it with friends and family!
Don't miss this essential Q&A issue of our investment newsletter, where we answer subscriber questions about the rising risks in this unique market environment…
Showdown at the Wall Street Corral!
Recently, the S&P 500 was declared a "new bull market," gaining 20% since last October's low. InvesTech published a rare Q&A issue of our investment newsletter in June and answered questions about current market risk and leading economic indicators. Seldom in history have both the macroeconomic and technical evidence been at such confrontational and seemingly contradictory odds with each other. Steadfast in our "Safety-First" conservative investing strategy, this issue dives into the unusual nature of this new bull market, warning flags in a variety of economic indicators, and what we recommend as the most prudent investment strategy. Request a free sample today to receive this special Q&A issue completely free!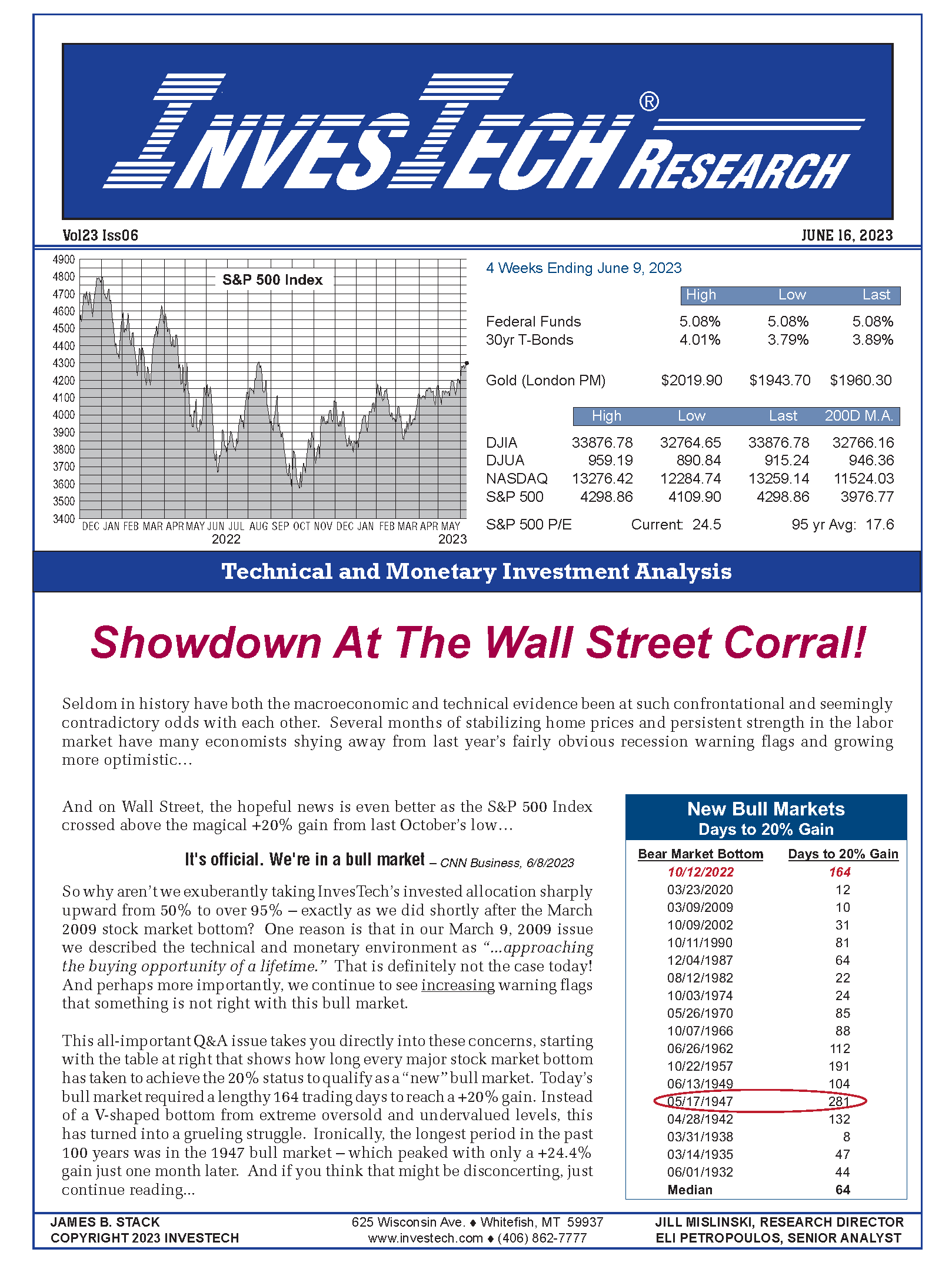 InvesTech Research: A Proven Track Record for Over 40 Years
Based in scenic Whitefish, Montana, InvesTech Research offers a unique "safety-first" conservative investing strategy to our readers located throughout the United States as well as 43 countries around the world. Through our proven proprietary models and objective analysis, InvesTech has a 40-year history of accurately assessing market risk – telling investors when to be most bullish and when to become cautious. View full Track Record here.
InvesTech Research is over 2,200 miles away from Wall Street and we see this distance from mainstream financial industries as a core component of our philosophy and objective methodologies. We love our mountain view and are proud to be "Far From the Madding Crowd," able to offer our newsletter readers the clear, researched, objective market analysis you rely on to inform your investment decisions.

A Philosophy Based on Experience
Formerly a Project Manager for IBM Research with a number of domestic and international patents to his credit, founder and president Jim Stack has a B.S. in Mechanical Engineering, with post-graduate study in business. After launching InvesTech Research in 1979, Jim began national circulation of his investment newsletter, InvesTech Research, in December 1982.
Today, InvesTech Research publishes the InvesTech Research newsletter, which has earned widespread recognition for its time-proven risk allocation and conservative investing strategy, as well as its in-depth analysis of the Federal Reserve.
Meet the InvesTech Research Team
As a Subscriber, You Will Receive:
InvesTech Issues
The monthly InvesTech Research newsletter contains monetary and technical analysis and unique research to aid your investment decisions.
Market Insights
Keep up with timely economic news and data releases and how these may affect your investing.
InvesTech Indicators
Follow InvesTech's proprietary technical indicators daily to watch for important breakouts or warning flags.
Model Fund Portfolio
View the current investment allocation in our Model ETF portfolio and access the latest trades as they happen.
Daily Data
Daily access to a wide range of stock market metrics, including market indexes, breadth/volume data, and short-term indicators. Including updates within 45 minutes of market close.
Subscriber Library
Explore our library of Special Reports and past issues on important topics of a timeless and historically significant nature.
Why Subscribe to InvesTech Research?
InvesTech Research is governed by a "Safety-First" investment strategy which is committed to helping you preserve capital, build resilient wealth, and identify tremendous buying opportunities.
We have a proven track record. For 40 years, we have successfully navigated volatile markets with our "Safety-First" risk allocation and conservative investing strategy, providing valuable insights to our newsletter subscribers. View full Track Record here.
Over 120 years of data inform our publications. InvesTech has developed one of the largest private databases in the industry including technical, monetary, and macroeconomic data. Through this wealth of market information, we're able to spot trends and detect patterns that most other research firms miss.
Time-proven proprietary indicators and tools. We are unique in our ability to analyze both the monetary policy of the Federal Reserve as well as the technical health of the stock market, and what it means for your portfolio.
InvesTech provides 100% independent, objective analysis. We sell no investment products. We provide fiercely independent research and analysis that you will not get from brokers, mutual fund advisors, and even many investment newsletters.
Kiplinger
Best Stock Market Letter
InvesTech Research, which promises 'safety-first profits,' has bested the overall stock market over the long haul with less risk. Publisher James Stack analyzes economic, monetary and market data (some going back more than 100 years) to make market calls and recommend allocations. – Kiplinger Personal Finance
InvesTech Research is Frequently Quoted in the Following: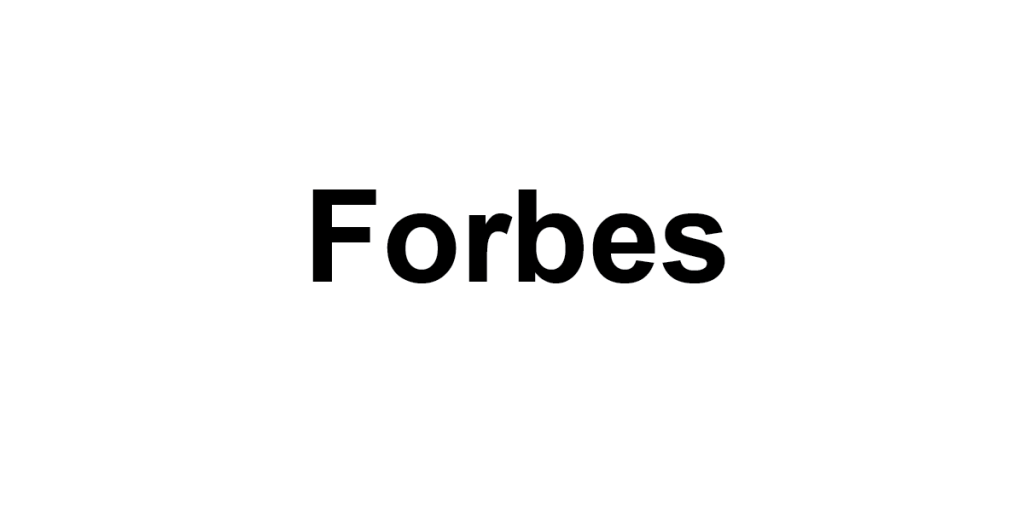 Visit our In The News to read more.
Recent Highlights
Keep up with weekly economic news and data releases and how these may affect your investing.
Regional manufacturing surveys from the Federal Reserve continue to languish as economic challenges persist…

The Coppock Guide ticked higher in March, yet there are many important factors that can help put this positive signal into context…

Initial claims for unemployment have risen significantly in recent months, signaling that labor market strength may be fading…
Become a subscriber today for full access to our latest issues, proprietary indicators, market insights, and other tools. Call our office at (406) 862-7777 (Monday-Friday, 8:30 am-5:00 pm Mountain Time) with any questions. We are here to assist you!