Happy 10 Year Anniversary

to the Longest Bull Market in History!
Read our March 15, 2019 issue of the InvesTech Research newsletter - for FREE! This contrasting view of Then versus Now compares today's market to our newsletter published just 4 days after the bear market bottom in March 13, 2009.
Click here
to read the full issue of the
InvesTech Research Market Analyst
published March 13, 2009.
---
Traveling to Whitefish, Montana or Glacier National Park?
If your travel plans include a trip to northwest Montana and Glacier National Park this summer, we cordially invite you to stop by our office in Whitefish, Montana. Schedule a tour of our new office and meet our team by calling 1-800-955-8500 (Monday through Friday, 8:30am to 5pm Mountain Time). We have also assembled our Best of Whitefish brochure, which includes the staff's favorite restaurants and activities in the area.

---
Jim Stack's Keynote Address from the MoneyShow Seattle
Jim Stack recently presented at MoneyShow Seattle. His Keynote Address, The Five Bear Market Warning Flags That Will Save Your Portfolio is now available to view.
---
For over 40 years, James Stack has been equally committed to helping investors increase profits and reduce risk through his top-rated InvesTech Research newsletter. Based far from Wall Street in scenic Whitefish, Montana, InvesTech offers a "safety-first" strategy that you simply can't get anywhere else. Utilizing time-proven proprietary models and objective analysis, InvesTech has proven to be remarkably accurate at predicting market risk – telling investors when to be most bullish and when to become cautious. For example...
InvesTech was recognized as one of only a handful of advisory services to warn subscribers to move to 100% cash prior to Black Monday on October 19, 1987.
In 1991, InvesTech published its bullish "TORO... TORO..." issue, just 10 days before the January stock market blast-off.
During the late 1990s, InvesTech consistently cautioned investors about the dangers of the speculative bubble gripping Wall Street.
InvesTech's risk-averse investment philosophy led investors safely through the bear market of 2000-2002.
InvesTech again achieved the objective of limiting losses during the 2007-2009 bear market.
In March 2009 –just

4 days

after the bear market bottom– InvesTech boldly advised subscribers that they were "heading toward a buying opportunity of a lifetime!"
With InvesTech, you'll find a service with the courage to stand alone against the crowd... to recognize and seize low-risk profit opportunities... and to shield investment capital during treacherous times. Click here to start your subscription today.
---
The final issue of the Hulbert Financial Digest, published in February 2016, included the ranking of top mutual fund newsletters and showed that InvesTech Research was #1 in long-term performance –both for risk adjusted and unadjusted performance– with an annualized gain of 8.7% per year… almost double the Wilshire 5000's annual return over the same period.
In December 2015, Kiplinger's Personal Financial magazine named InvesTech Research as the "Best Stock Market Letter" available to investors. We are flattered by this distinction and will diligently strive to provide the best possible analysis and advice during what could be tumultuous years ahead:
Chart of the Week October 11, 2019
Small business optimism dropped in September, as the global slowdown and trade uncertainty weighed on the future outlook. Small businesses are an important component of the U.S. economy and further deterioration in this survey would point toward poor economic growth. Stay tuned as we monitor this key indicator closely in the months ahead...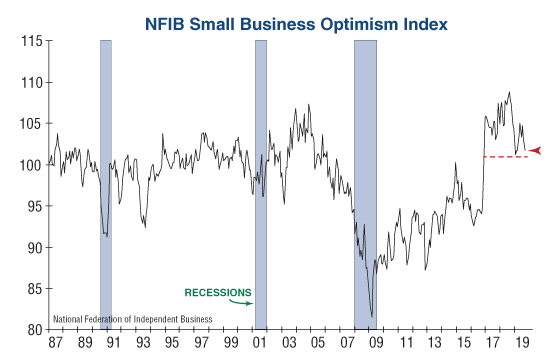 Stack Financial Management
Stack Financial Management was incorporated in 1994 in response to demand from InvesTech subscribers for personal portfolio management. SFM is separate and independent of InvesTech Research, yet employs the same safety-first philosophy and technical approach first used by InvesTech Research almost three decades ago.
Professional Asset Management, using a proven strategy that reduces portfolio exposure when market risk is high.
Account Options to suit your personal investment profile. Whether you desire dividend income or are more interested in capital growth, Stack Financial Management offers an account objective to meet your needs.
Portfolio Management for individual clients, corporations, trusts and retirement plans.
Click Here for more information, including account options, fees and how to order a complete information package.
---
Live Stream of Big Mountain broadcasting from our New Office!