The Consumer Price Index (CPI) surged to 8.5% on a year-over-year basis in March, the highest reading since 1981. Energy prices were a big part of last month's increase, yet services inflation was also a major contributing factor, as it surpassed 5.0% for the first time in over 30 years. Despite there being distortions in the report caused by the Russia-Ukraine conflict, it's clear that inflationary pressures continue to be both sticky and broad-based.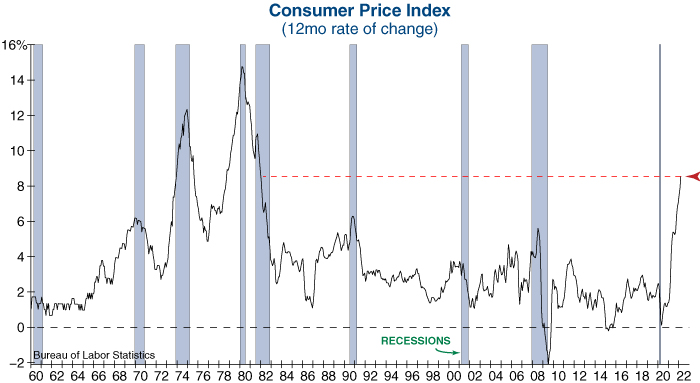 Unrelenting inflationary pressures have continued to weigh on the attitudes of small business owners, as NFIB Small Business Optimism sank to the lowest level since the pandemic-induced recession in 2020. Below are a few highlights from this report:
Inflation has replaced "labor quality" as the number one problem for small businesses. In fact, 31% of owners reported that inflation was their single most important problem, which was the highest since 1981.
72% of small business owners reported raising average selling prices, the highest reading ever recorded.
50% of small business plan on raising prices in the next three months.
Owners expecting better business conditions over the next six months fell 14 points to the lowest level on record.
The NFIB succinctly summarized the report by stating: "Inflation has impacted small businesses throughout the country and is now their most important business problem. With inflation, an ongoing staffing shortage, and supply chain disruptions, small business owners remain pessimistic about their future business conditions."