In our April issue titled Housing: Heading for a Hard Landing!, we warned that soaring mortgage rates and sky-high housing prices would soon begin to weigh on the housing market. In today's release, new homes sales suffered its biggest drop in nine years to a level that has historically occurred near the start of recession.
Perhaps the most common argument made by bullish advocates of the housing market has been that inventories are too low. While we have acknowledged that was true, our research also showed that inventories can unexpectedly surge as the housing market slows. This is exactly what has occurred, as the current Months' Supply of New Homes for sale exploded sharply from 6.9 months to 9.0 months – the second-largest jump on record!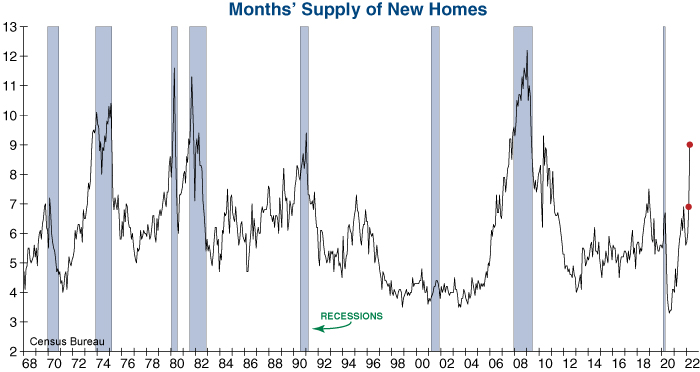 Furthermore, there is still significant additional inventory under construction that has yet to hit the market. As shown by the graph below, the total number of units under construction rose to an all-time high last month, just as demand has begun to slow.
In total, record prices and soaring mortgage rates have slammed the housing market and the recent data makes it clear that housing is, indeed, on its way to a hard landing.