This morning's year-over-year (YoY) Headline CPI for August came in slightly above consensus at 3.7%. Headline CPI ticked up for the second month in a row, rising 0.6% month-over-month (MoM) – largely due to rising energy prices.
Within Headline CPI, the energy index climbed higher for the second month in a row and prices are now only 3.6% below where they were one year ago. With the current inflation backdrop, any shocks in the energy sector will cause Headline CPI to jump. Components of Headline CPI that remain well in excess of the Fed's 2% target include food (4.3% YoY), shelter (7.2% YoY), and transportation services (10.3%YoY).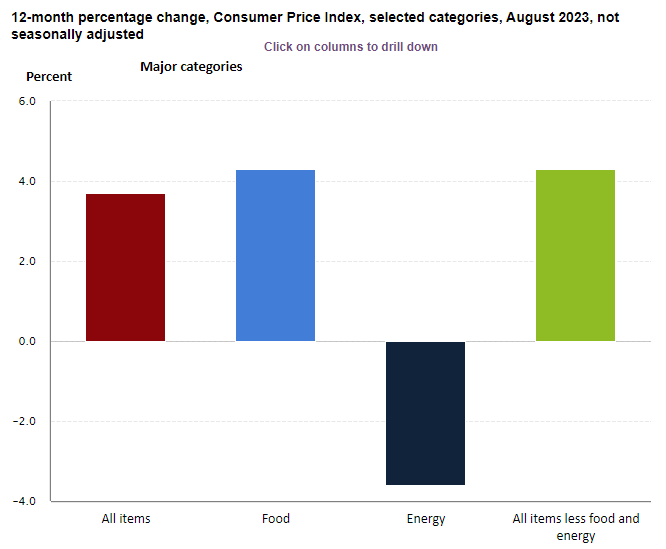 Core CPI, which excludes volatile food and energy prices, came in at 4.3% YoY which was in-line with forecasts. It dropped for the fifth straight month in August, going from 4.7% to 4.3% YoY, as rent inflation continues to decline. Within Core CPI, services account for nearly all of its rise, as goods inflation (less food & energy) is up just 0.2% from a year ago. On a month-over-month (MoM) basis, Core CPI increased by 0.3%.
The August Core CPI reading was an improvement from the July figure, but two consecutive increases in the Headline CPI reiterates that inflationary pressures remain present. Whether or not the Federal Reserve continues to hike interest rates this year, inflation data increases the probability that the central bank will have to keep interest rates "higher for longer."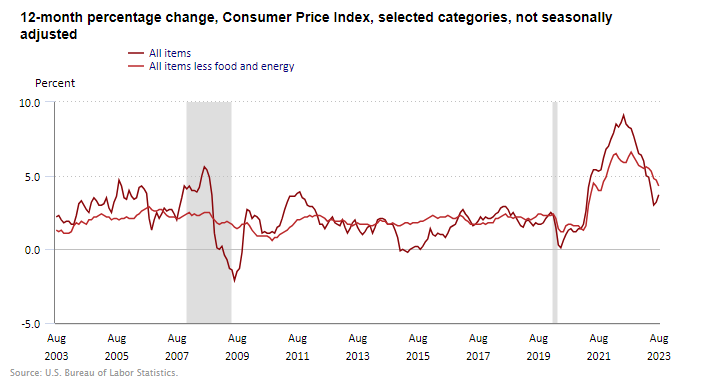 Interested in reading more? Access a select few publicly available Market Insights here, or become a subscriber to gain access to our vast library of subscriber resources.